Rogue River Lodge Activities
At Rogue River Lodge it's perfectly fine to do as much, or as little, as you like. Simply enjoy the views, wildlife, birdlife, private decks/gardens/hot tubs, main deck, and gathering area…or, check out some of the area's offerings below.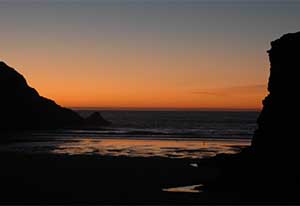 REST & Rejuvenate
Watch the sunset…or walk barefoot on the beach or hike, bike, kayak, golf. Check out all of our areas offerings at www.goldbeach.org.
At Rogue River Lodge it's perfectly fine to do as much, or as little, as you like. Simply enjoy the views, wildlife, birdlife, private decks/gardens/hot tubs, main deck and gathering area…or, check out some other ideas here.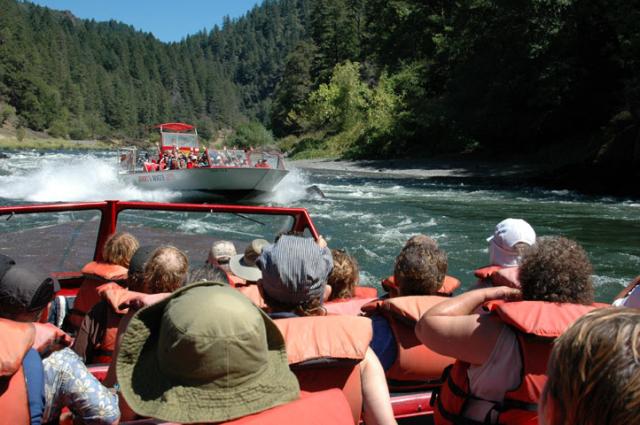 Jet Boat Up The Rogue River
Experience the Rogue River as never before – aboard a commercial jet boat traveling up the rapids and through the canyons of the Rogue River. We highly recommend these trips.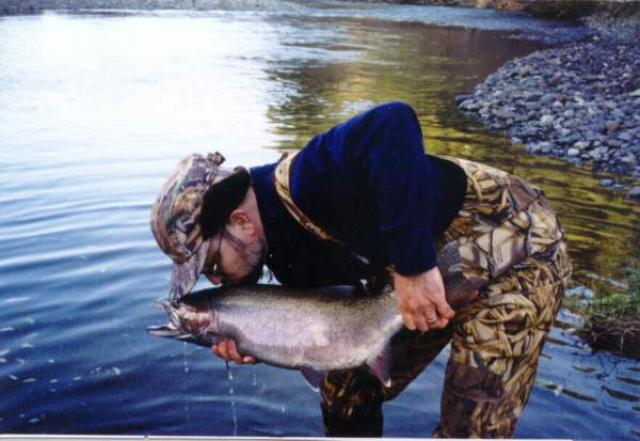 Fish the Rogue River & Pacific Ocean
The Rogue River is known worldwide for its salmon and steelhead runs. Local guides provide the boats (covered and heated for extreme conditions), gear and expertise. For the purist, guided fly fishing is also available.
DECEMBER – MARCH
Winter Steelhead (5-20 pounds) travel up the Rogue River this time of year. These fish are good eating and great fighters.
MARCH – JUNE
Spring Chinook (or King) salmon are caught between Gold Beach and Agness (2 to 35 miles upriver). Similar to Fall Chinook, these "Springers" are in peak physical condition as they leave the icy waters of the Pacific Ocean and enter the Rogue system in search of their spawning grounds. Known for their mouth-watering flavor, Spring Chinook Salmon range in size from 10 to 40+ pounds.
JULY – OCTOBER
Troll (fisherman talking for slowly driving a boat around with baits and/or lures trailing) the Rogue River Bay for Fall Chinook Salmon. These fish range in size from 10 to 50+ pounds and put up a great fight. A 71.4 pound Rogue River Chinook made the World-Record books! It was caught on a fly with 7.2 pound test line. Ask us for the 'Rest of the Story'!! Summer Steelhead ("Half-Pounders") also provide catching excitement this time of year.
FISHING THE PACIFIC OCEAN
If you've never boarded a charter boat and headed out onto the Pacific Ocean for some deep sea fishing, you've missed one of life's greatest pleasures. Ask us for Charter Boat Services, which operate out of the Port of Gold Beach. The offshore fishery here is hard to beat…and you don't have to go far. Directly offshore lies the Rogue River Reef. This area and the waters that surround it are home to an incredible variety of fish species. You're likely to hook Ling Cod, Rockfish, Cabezone, Snapper etc. Added bonuses include Dungeness Crab (in season), beautiful coastline, whales, sea lions, seals and many, bird species.
SURF FISHING FROM SHORE
Ask us about this fishery. You can catch Surf Perch and other species year 'round but April through July is normally best.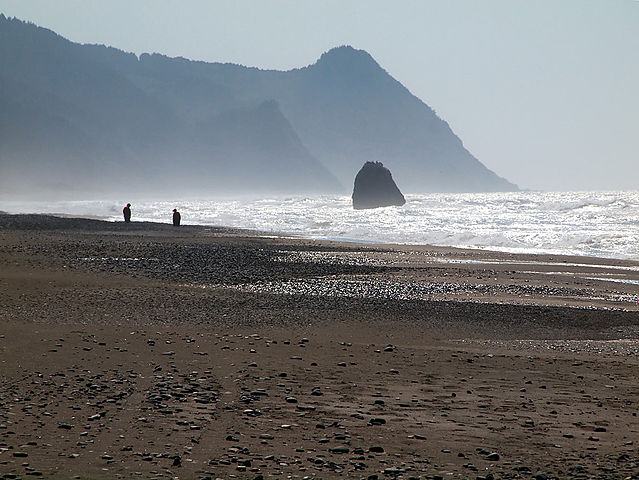 Natures Adventure Center
Rogue River Lodge is truly the best 'Base Camp' you're likely to find for outdoor enthusiasts.
BEACHCOMBING & 'TREASURES ON THE BEACH
You have to get in some 'Beach Time' while you stay with us here at Rogue River Lodge. Ask our staff where to find the 'Best Beaches'. You'll find 'Treasures' of all kinds. Glass Floats are 'planted' on the local beaches during the months of February, March and April. There is also an 'Indoor Treasure Hunt' during these same months. Ask us about the details or go to www.goldbeach.org.
HIKING THE OREGON COAST TRAIL
You're toughest decision will be, "Where do we start"? Difficulty ranges from 'Hardy Hikes' to 'Couch Potato'. There are dozens of sections of the Coast Trail both north and south of the lodge. Ask our lodge staff for a copy of the 'Gold Beach Visitors Guides', which includes the 'Beat of the Best'. Be sure to check out (south); Cape Sebastian, Arch Rock, Thunder Rock Cove, Natural Bridges, Indian Sands and Whaleshead for sure. Going north, don't miss; Otter Point, Humbug Mountain, Port Orford Heads, Cape Blanco. Blacklock Point and Floras Lake.
INLAND HIKES
There are several inland trails that we highly recommend. Don't miss; Rogue River Walk, Myrtle Tree Trail and Old Growth Forest.
WHALE AND STORM WATCHING
Late Fall and early Winter is prime time for whale watching along the Oregon Coast. From November to early February, nearly 23,000 gray whales migrate south past this area from Summer feeding grounds in the Bering Sea to the breeding and calving lagoons of Baja, California. Gray whales may be seen returning from Baja and traveling north during early and mid-Spring. migratory peaks are late December/early January and late March. Ask us where the best viewing areas are.You don't necessarily have to go out and brave the elements to take in the spectacle of crashing waves against our rugged coastline. Offshore storms create gigantic waves, which you can watch explode against the headlands on one of our many 'bright and sunny' Winter days. November, January, February and March are normally best.
BIRD WATCHING, WILDLIFE VIEWING & PHOTOGRAPHY
There are more than 250 bird species that make our area their home. Depending on the time of year, you may also see; deer, elk, otter, beaver, bear, cougar, fox, bobcat, raccoon, seals and sea lions, This area is a photographers paradise!
HORSEBACK RIDING
Make reservations with Hawk's Rest Ranch for a Ranch Ride or Romantic Sunset Ride on the Beach.
GOLF, GOLF AND MORE GOLF
There are 9 golf courses within an hours drive of Rogue River Lodge, including the 4 World-Renowned courses at Bandon Dunes.
KAYAKING
Have you always wanted to try this sport? Let us know and we'll help make arrangements for a relaxing/exciting guided trip or kayak rental to play on your own. There are also Stand-Up Paddle Board (SUP) rentals.
GAMING
If you can't go more than a day or two without 'Trying Your Luck'…you're in luck. There are 3 Native-American Casinos nearby (45 minutes south, 1 hour south, 90 minutes north).
SHOPPING
For a little beach town, Gold Beach has some pretty cool art galleries and shops. Don't miss Gold Beach Books, the Gold Rush Center and Rogue River Myrtlewood.
SOUTH ON HIGHWAY 101
There are dozens of things to see and do just an hour or so South of Rogue River Lodge, while traveling Coastal Highway 101. Don't miss the Samuel Boardman State Park Scenic Corridor, Port of Brookings-Harbor, Ocean World, Trees of Mystery and the fabulous (and beyond compare) REDWOODS.
NORTH ON HIGHWAY 101
Check out Prehistoric Gardens, Port Orford Docks (one of only 7 in the world of this type), Port Orford Heads, Hughes House, Cape Blanco Lighthouse (northernmost in the Continental US), Game Park Safari, Old Town Bandon and the Coquille Lighthouse.
EAST OF ROGUE RIVER LODGE
Travel through a magnificent stand of Old-Growth Redwoods along scenic Highway 199 on your way to Interstate 5. The Smith River canyon is absolutely incredible. Consider taking a wine tour in the Rogue, Umpqua or Applegate valleys. Don't miss Crater Lake (Oregon's only National Park and the headwaters of the Rogue River)!!